What is sensory worship? It's really something you have to experience to understand. Come and see what we're doing.
Every 2nd and 4th Saturday at 10 a.m., at First Lutheran Church,
3600 West Friendly Avenue in Greensboro
All ages gather together for multi-sensory worship that is ecumenical. What does that mean? Our leaders are Christian ministers who embrace all branches of beliefs. Our emphasis is on a radical welcome and an unending, unbounded grace that values each individual. We try to embody the stories we tell through taste, touch, sight, sound, and smell. We follow a structured order of service that still allows for flexibility. Our planned service is about 45 minutes long and most people hang around for fellowship and refreshments after the service.
Sensory worship is described in this (awesome) article in The Christian Century.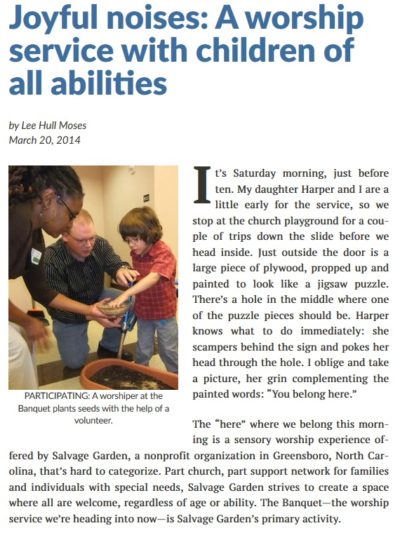 And this (also awesome) article in the Greensboro News & Record.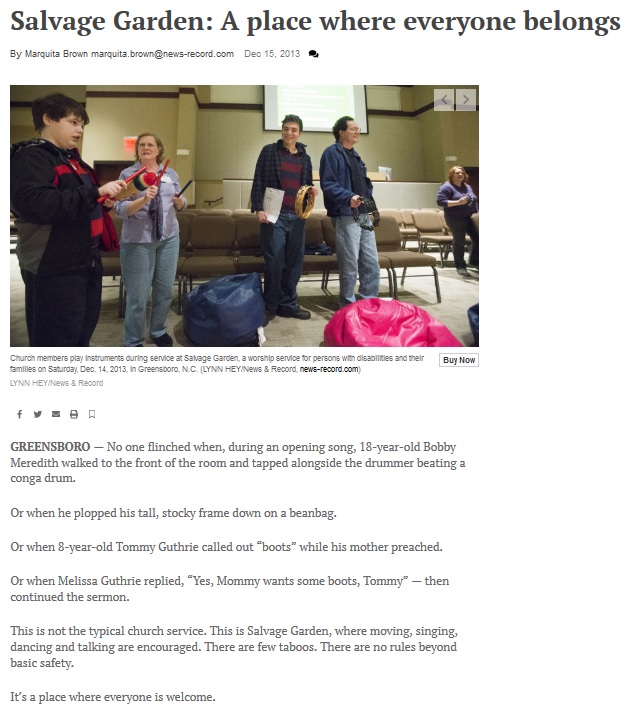 The best pictures and videos are on the Salvage Garden Facebook page.
Every body is affirmed. (We spelled that right. We are intentional about affirming every single body.) When we gather together at The Banquet ©, we speak (or sign or hear) these words:
If we cannot see, we will reach out and touch. 
When we cannot dance, we will surely sing.
What we do not hear, we will feel.
The presence of God is  in us and among us.
At God's banquet table, all are welcome.
People with disabilities. People of color. People who are LGBTQ+. People who have questions. People who doubt. People who believe. People who don't know what they believe.
At God's banquet table, all are welcome.
Salvage Garden would love to talk with you about this particular service and how your faith community can adapt sensory worship or offer its own meaningful worship experience where all are encouraged and able to participate.